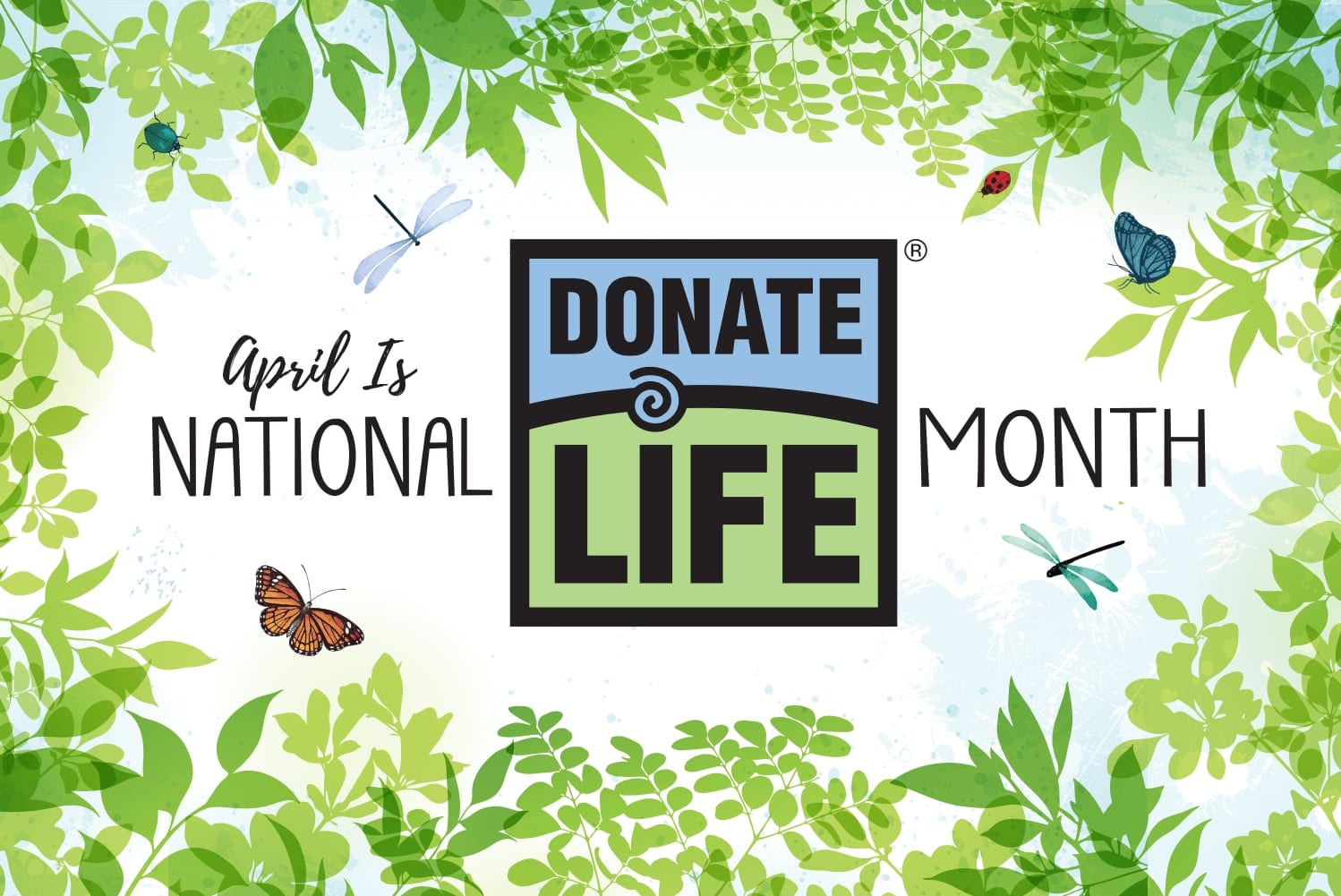 A month to honor and celebrate.
Here in Virginia, April is a beautiful time of year. The weather gets warmer. Nature awakens from its winter slumber. And life flourishes all around. But maybe the most important thing about April is that it's National Donate Life Month (NDLM).
During this month-long celebration, you can take part in several events and activities designed to honor those who have saved lives through the gift of organ donation. We also encourage everyone to register as an organ, eye and tissue donor. Here are some reasons why registering right now is more important than ever:
Of the 100,000 U.S residents waiting for a lifesaving transplant, 2,400 live right here in Virginia.
20 people die each day because the organ they need is not donated in time.
Another person is added to the waiting list every 10 minutes.
Only 60% of Virginians have signed up to be organ, eye and tissue donors.
One organ donor can save and heal more than 75 lives.
If you haven't already, please update your donor registration. It takes less than a minute, gives hope to those who are waiting and builds stronger communities here in Virginia. And that, is truly beautiful.
During NDLM, there are several ways you can help us spread the word, educate others about donation and encourage small steps towards saving more lives. Be sure to mark your calendar!
2.4 Mile Donate Life VA Walk & Talk Challenge
Help us raise awareness for the 2,400 Virginians awaiting transplants. Just invite a friend to walk 2.4 miles, talk about the reasons you're a donor and post a pic on social media. You'll help us give hope to those on the waitlist and might even win a Donate Life Virginia prize pack!
To Enter:
1) Walk 2.4 miles anytime in the month of April
2) Snap a photo of you and your friend(s) on your walk
3) Post it to Facebook, Instagram or Twitter with the hashtag #DonateLifeVaWalkandTalk
4) Tag Donate Life Virginia
Not every transplant is the result of a deceased donor. Some are acquired from living donors who donate an organ, or part of an organ, to a person in need of a transplant. Whether it's a relative, a spouse, a friend or even a complete stranger, living donors deserve to be celebrated. So, join us on Living Donor Day when we say "thanks" to these lifesaving heroes for their generosity!
Get in the spirit and join us for an entire week of celebrations. We'll recognize the donors, volunteers and healthcare heroes who make second chances possible and encourage others to sign up and give hope to those who are waiting.
On Friday, April 16, we will host a Blue and Green Day Selfie Challenge for a chance to win a Donate Life Virginia prize pack. All participants need to do is snap a selfie and post to Facebook, Instagram or Twitter tagging Donate Life Virginia with the hashtags #BlueandGreenDay #DonateLifeVa
Follow along on our Instagram, Facebook and Twitter feeds and help us spread the word!
Volunteer Appreciation Day
We cannot celebrate NDLM without taking a day to recognize our incredible volunteers. These individuals work to register more organ, eye and tissue donors every day. Thank you to the tireless and inspiring volunteers who support the work of all of Donate Life Virginia's members and partners. You all save and heal lives!
Show us your artistic side by decorating stones in the style of Donate Life. Write a special message, paint the Donate Life symbol or just adorn it in blue and green. Be creative! Then share a photo of your masterpiece on Facebook, Instagram and Twitter using the hashtags #donatelifeva #BGSpiritWeek and tag us in the photo.
Donate Life Flag Raising Day
Many hospitals fly a flag when a donor case is in progress and present it to the donor's family in recognition of their gift. Take a moment to raise the DL Flag in honor of all of those who gave the gift of life, recognize the recipients who honor the gift and honor those who play an important part in the donation and transplantation process.
Read our Message of Hope posts on Instagram and Facebook and add a comment sending support and healing to those on the national transplant waiting list.
Thank Your Healthcare Heroes
Wednesday, April 14, 2021
We take this day to honor our healthcare heroes. The donation and transplantation process involves many. These individuals work tirelessly to care for patients who receive an organ transplant and those who may be donors, help with laboratory testing and comfort grieving families. We are grateful for all that you do each and every day.
Use sidewalk chalk to draw a colorful message of hope and share your creations on Facebook, Instagram and Twitter using the hashtags #DonateLifeVa #DonateLifeMonth #BGSpiritWeek
National Donate Life Blue & Green Day
Add some color to your week! Wear something blue and green and share our messages on Facebook, Instagram and Twitter to promote the importance of registering as an organ, eye and tissue donor.
National Pediatric Transplant Week
Currently there are about 2,000 children waiting for a life-saving transplant. Help us end the pediatric transplant waiting list by promoting the importance of registering as an organ, eye and tissue donor.
Based on the positive feedback from last year, we are continuing with the "Garden of Life" theme for National Donate Life Month 2021. The theme was inspired by a springtime garden and the many symbols of hope, courage and transformed life found within—which are also repeatedly found in the donation and transplantation journey.
Our garden depicts an ecosystem of plants, insects and other components working together to form an interconnected living system. Similarly, we each have the potential to nurture and enrich our communities through organ, eye and tissue donation.
This NDLM, we ask you to be a part of this lifesaving and healing garden by registering as an organ, eye and tissue donor, learning about living donation and championing the Donate Life cause.
Donate Life Virginia NDLM Toolkit