Driven: A NASCAR Driver Pays it Forward
Published on April 19, 2017
by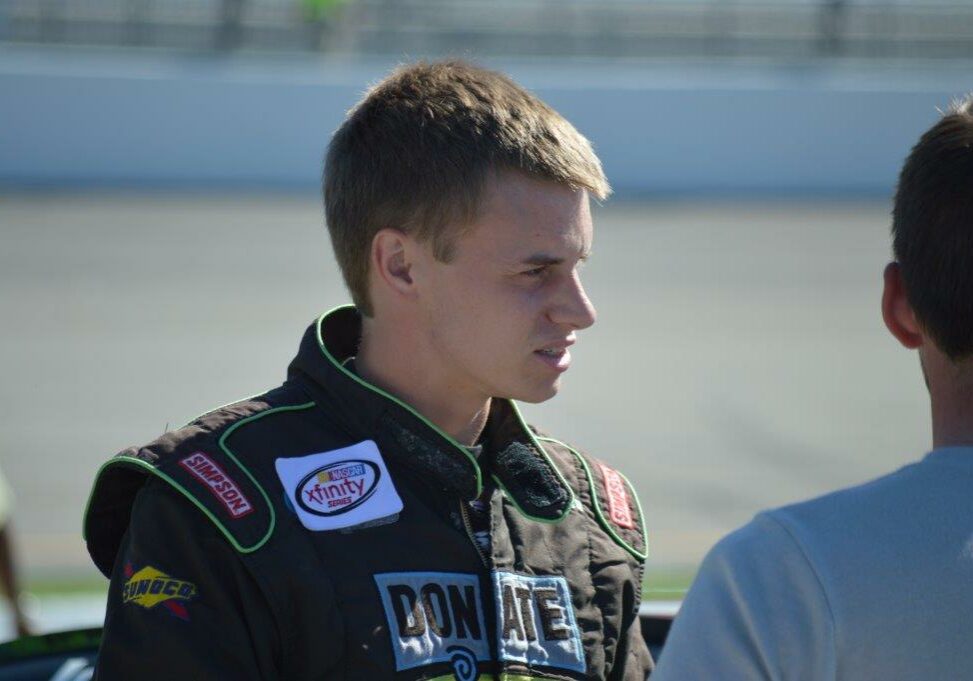 Joey Gase may be a rising star in NASCAR but he's also a 24-year-old who, not too long ago, had to make the hardest decision he may ever face.
Joey was 18 when his mother, Mary Jo, suffered a brain aneurysm at the age of 44 which tragically took her life. Since his parents were divorced, it was Joey who had to make the final decision.
"In the rush to get to the hospital, we didn't have her wallet, her driver's license," said Gase. "We didn't know 100% what she wanted because it was something we never really talked about before and we did not have her driver's license. She had always talked about wanting to be a blood donor, so we knew if she could no longer continue her life that she would want to do whatever she could to help others continue theirs."
At the age of 18, Joey gave consent for organ donation as his as his mother's next of kin. Hours later, back at home, he was glad he had.
"We opened her wallet and looked at her driver's license," he said. "She had signed up as an organ donor. We made the right decision."
At that point though, Joey realized he didn't know whether he had made the same choice or not.
"We opened her wallet and looked at her driver's license," he said. "She had signed up as an organ donor. We made the right decision."
"I couldn't even remember whether I was an organ donor," Gase said. "I had to take my license out and look at it. I was but I didn't remember doing it. I feel so many people are in a rush at the DMV they don't realize how import of a decision they are backing when they say YES or NO."
Driven to advocacy
It was that moment – his mother's death and realizing he didn't know either of their status — that turned Joey Gase into an organ donation advocate.
"My mother helped and saved 66 people," said Gase. "My sister and I have been fortunate to meet two of her recipients so far – her kidney and liver recipients. If my mom had not been a donor they may not be here today. We know how proud she would be to know that."
Joey decided to do everything he can to promote organ donation. In many cases, he said, people aren't opposed to registering – they just don't take the time to do it.
So he helps to remind them, by putting the names and faces of organ donors on his race car.
"Just putting that picture on the car does so many things," said Gase. "People ask questions, they want to talk to you about who the person is and why you've got their picture. Not everyone knows about the Donate Life logo, but seeing someone's picture makes them pay attention."
In honor of Tyler
One of those pictures will be Tyler Patnaude, a Cosby High School senior who died in a car crash in 2014. Tyler was an organ donor and his parents, Peter and Yvonne, have become organ donation advocates themselves in the wake of his death.
On April 27, Joey will take his No. 52 Chevrolet to Cosby High where he and Tyler's parents will talk to students about organ donation. He'll also give the students a chance to put their painted handprints on his race car, which will also feature Tyler's image.
"We'll race the car in Tyler's honor but I'll also get to spend time with his friends and family before then," Gase said. "That's really special to me because it's not every day you get to meet someone who's been through the same thing you've been through."
The opportunity to spend time with other families who also had to make the toughest decision, has been one of the keys to healing since his mother's death, Joey said.
"It's really helped me get through it," he said. "Knowing that Mom helped and saved the lives off 66 people and knowing the impact she made in not only their lives but their entire families lives and that she is living through them has made a huge difference in helping my sister and I in her passing."
Joey will race at the ToyotaCare 250 NASCAR XFINITY Series race at Richmond International Raceway on April 29. In advance of the race, he spoke with Donate Life Virginia about his racing career and his efforts to raise awareness for organ donation.
Where did you grow up? What drew you into racing in the first place? How long have you been racing with NASCAR?
I grew up in Cedar Rapids, Iowa. My father, Bob, raced before I did so I grew up at the track and the shop wanting to race. I was always excited to go cheer on my dad at the track every Friday night. My first NASCAR start was in August 2011 at Iowa Speedway at the age of 18 in the NASCAR XFINITY Series (then it was called the NASCAR Nationwide Series).
Tell us about your mother. Were you close? How would you describe her?
My mom was a very loving, hard working, and caring person. She always tried to live her life by example for my sister and I and always made sure if she made a mistake to apologize. She was a hairstylist and a very good friend to many. I never realized how many lives my mom made a difference in until the day of her wake. The line ran out the door for hours with those that wanted to say one final goodbye to her.
What's the most common question you get when you speak to people about organ donation? What do you tell them?
The biggest misconception I always hear is that if I am an organ donor the doctor won't do everything they can to save me. I learned first hand with my mom that this is not the case at all and that the transplant team is a completely different team. The doctor's job is to take care of your well being and to save your life, if there is someone they cannot save they feel that they have failed and this is the very last thing they ever want to happen.
What would you say to people who are on the fence about signing up?
I would first ask them why they would not want to be one. Often times they cannot give me an answer. Then I say well if you can't give yourself a reason on why not to sign up don't you think you should? They then often agree and sign up. I tell them how my mom was an organ donor and helped save and improve the lives of 66 people and how she would be so proud to know that. I also tell them how life-changing it is and that we have met two of her recipients.
What do you wish more people knew about organ donation?
I wish more people would know how many people are passing away on the waitlist every day, that organ donation is no cost to you or your family, that you can be a donor at almost any age and always say yes and to let the doctor decide.