"Somehow, someday, I will affect someone's life"
Published on July 13, 2017
by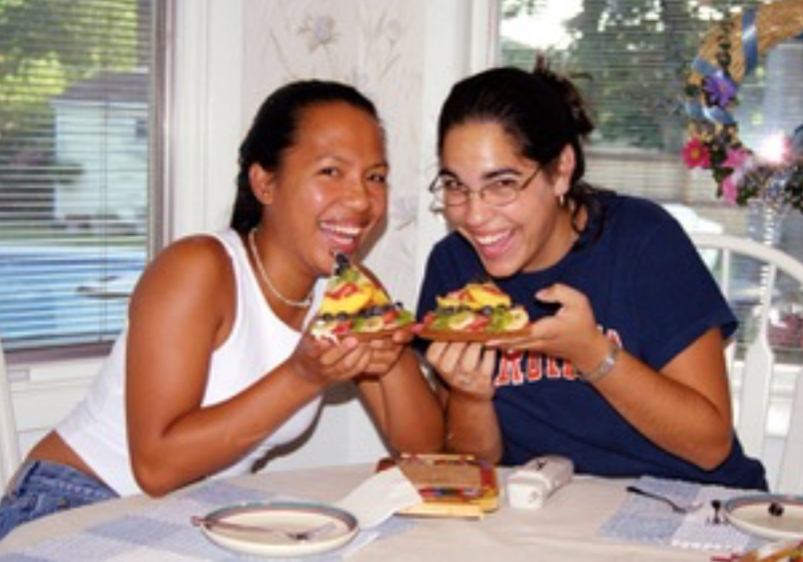 "Maria was born the queen bee," remembers Susie Diaz fondly. Her little girl was the youngest of three, with two older brothers aged 7 and 9 at her birth in December of 1981. "She was just so cute, and much more feisty than our boys."
The queen bee stayed close to her hive at first, wrapping most of her family around her finger, famous for her ability to reduce her mother to tears of laughter with just one look. As she grew, her charm and natural leadership started to fan outward, landing her the captainship of several teams and clubs, including a brass quintet that could only ever get one song truly mastered, as they spent most of their rehearsals howling with laughter.
"That's just the way she was," Susie says. "And she died with a smile on her face."
In 2001, on her way to her sophomore year at University of Virginia, Maria lost her life in a car accident. She was giving a friend a ride to James Madison University—out of the way, Susie argued, but Maria's good nature, as usual, prevailed. Susie and her husband Al followed their daughter and her friend in another car, laden with luggage. They'd been ahead of the two 19-year-olds for several miles, and when Maria eventually overtook them in the traffic, she blew kisses as she drove by.
"That's just the way she was," Susie says. "And she died with a smile on her face."
Fifteen minutes later, traffic slowed to a crawl, and Al told Susie to call Maria and let them know they'd be stopping to see what they could do to help. There was no answer, and as they got closer, they saw Maria's car in the wooded median, crumpled against three trees.
The night before, Al and Maria had been involved in a discussion about organ donation. That wasn't a new idea—Maria had been a big proponent for organ donation since the minute she got her license. Susie remembers her daughter calling both of her brothers upon returning home from the DMV and demanding that their licenses have hearts on them by the next time she saw them.
But the moment she saw Maria at the scene of the accident, still breathing but unconscious as a result of blunt trauma to the head, organ donation was the last thing on her mind. Emergency responders used the jaws of life to get her friend, who had died instantly from a broken neck, and Maria out of the car. Maria's injuries quickly triumphed, and she died before she could even leave the scene.
The scenario was more awful than anything Al or Susie had ever dreamed.
A ray of light in the grief
Somehow, through the shock and the grief, Al recalled the previous night's conversation, and asked the state trooper what the options were for organ donation. The trooper called VCU Health Hume-Lee Transplant Center in Richmond, and Al was rapidly connected to LifeNet Health's donor center. Maria was not able to donate her major organs because she died at the scene of the accident and was never on oxygen with a ventilator which would give oxygen to keep her organs viable for transplant. However, the Diazes would soon learn that tissue donation from one person can help dozens of others.
And it was that process that helped them through their grief.
"Mom, Dad…we are so lucky."
Just 18 days later, the World Trade Centers collapsed, and suddenly, a country was grieving along with Al, Susie, and their family. This new shock added to their personal one, but, just as unexpectedly, gave them a new kind of comfort. Maria's brother, Chris, a police officer in Albemarle County, turned from the horror on the TV screen and said to his parents, "Mom, Dad…we are so lucky."
Susie couldn't grasp his meaning at first, but he continued. "We had Maria. We could bury Maria. We knew it was Maria. These people who are losing their loved ones don't have that at all." Soon, they'd be able to count another blessing: they learned that Maria's tissue had gone on to help 69 individuals live better lives and sometimes live life at all. Instead of the senselessness of the violence on the news, their child had gone on to do something she'd written down for a classroom assignment when she was in 10th grade: "I exist because somehow, someday, in some way, I will affect someone's life."
"I think her wishes were granted," says Susie.
For both of Maria's parents, their efforts to help people were just beginning. They threw themselves into the fulfilling work of assisting with donor families, leading organ donation awareness and outreach education, and encouraging others to register for one of life's most important gifts. They battled myths about organ and tissue donation head-on, detailing the care and respect that the team had for Maria's body, which appeared in all of her beauty in an open casket at her memorial service. They both became trained in grief counseling, providing lifelines for those who were going through similar experiences. The work was sometimes difficult, but always invigorating. Al and Susie felt all along that it was Maria spurring them on, Maria saying with her trademark feistiness, "Don't forget, this is what I wanted. This is how we can help people."
"Don't forget, this is what I wanted. This is how we can help people."
Al was surprised but understanding of the many recipients who told him that they carried sadness and guilt for living because someone else died. He's never once spoken to any of Maria's recipients, but he could tell these others his truth: Maria didn't die in order to donate. She simply died. And in doing so, improved lives.