35 Day Challenge Honors Richmond Donor
Published on July 10, 2018
by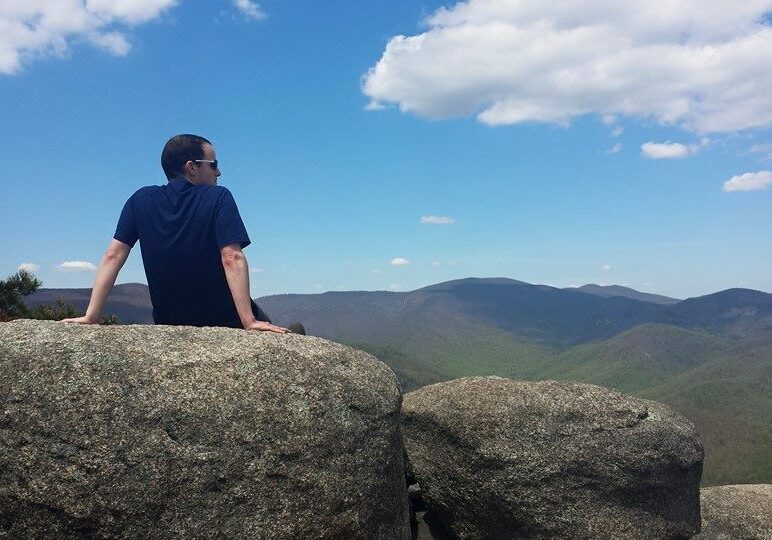 Andrew Luna was an advocate for organ donation even before he died.
In life, he experienced firsthand how an organ transplant impacts a family. Upon his death, he gave his own organs. And now, six months after his death, his friends are signing up organ donors in his name to commemorate what would have been his 35th birthday.
The Luna Challenge – signing up 35 donors in 35 days before Andrew's 35th birthday – is an idea created by Andrew's friends as the lead-up to his birthday on July 23.
Romy Sharieff, who is spearheading the campaign, met Andrew while rock climbing at Peak Experiences climbing gym about seven years ago.
"He was a good climber," Romy said. "We were climbing partners for years and then we lost touch for awhile. When I contacted him again to ask if he remembered me, he said 'How could I forget?'"
The gift of life
An outdoor enthusiast, Andrew was a good climber and also liked paddling the James River and hiking.
He was in good shape and seemed healthy, so it was a shock to everyone when he collapsed after finishing a climb.
"His heart just stopped," said his friend and coworker of 14 years, Bryan Tims.
"Bystanders performed CPR and the ambulance got there really quickly and got him to the hospital but he just didn't get enough oxygen to his brain."
"His heart just stopped."
Despite all the life sustaining efforts to save Andrew, he did not survive. Andrew's friends and family knew his passion for donation and his wishes were honored after he passed away.
"His mother, Linda, had been a kidney transplant recipient," Romy said. "Her sister, Ellen, donated a kidney to her and Andrew's life was directly impacted on the receiving side. He could see his mother getting better from the transplant."
Sean Kelly, who worked with Andrew for about 14 years, said Andrew had talked a little about his mother as her transplant date neared.
"It changed his family's life," Sean said.
Andrew's family was hit hard by his mother's death in August 2017. Mary Kathryne "MK" Dickinson, who also worked with Andrew, said she remembers him posting a picture of his mom and her sister, whose kidney had given her another decade of life.
On and off the job
Together, Andrew, MK, Bryan and Sean – all scientists at Virginia's Division of Consolidated Laboratory Services, were not just coworkers, but were friends and support for each other.
"He was one of those people who you became friends with immediately," MK said. "We didn't just work together – we went out together after work and did things around the holidays and Andrew was always the guy spearheading that."
"It changed his family's life."
"The idea of 35 donors in 35 days was perfect for Andrew," Bryan said. He was SO competitive but in a good way, a friendly way. He would give it his all and if he didn't win, it would really frustrate him because he'd put so much into it and he still didn't win."
"Fortunately," MK added, "He was good at pretty much everything he tried."
"But he would have filled out five organ donor cards for the challenge, not just one," Bryan said. "He put his all into everything."
The circle
By launching the Luna Challenge, Romy said she's hoping to continue the circle started by Andrew's mother's kidney transplant and extended when his own kidneys were donated.
"The women who received his kidneys were in their 60s and 70s," she said. "They were his mom's age so it was like he was fulfilling his role as a good son. It's so powerful how it comes full circle. Andrew has no idea that the women who got his kidneys are these wonderful women who are now able to play with their grandchildren."
Signing up donors is a great way to honor Andrew, Sean agreed.
"In his last act of generosity, he was able to give life and that has such a chain reaction on the world," he said.
Andrew's friends have been spreading the word about the Luna Challenge – and about Andrew.
"We want people to know and to think 'Wow, I actually know Andrew now because I know his story,'" Sean said.
Talking about organ donation has also helped the three work friends to think ahead to their own future.
"An all-American really understated hero."
"Being a younger person, donation is not something you think about," Bryan said. "You don't plan for your end of life. Andrew makes us realize that it could happen at any point."
Romy said she's well on her way to getting 35 new donors to check the box in Andrew's honor by the July 23 deadline. Several local businesses and sporting event organizers have signed on to help get the word out.
"Andrew was an all-American really understated hero. That's kind of how organ donors are – understated heroes. Andrew was literally the guy who would give you his kidney."
Already signed up to become a donor? Be sure to tell your family and friends about your wishes. Share your life, share your decision.