Virginia Man to be Honored at Richmond Raceway
Published on September 17, 2018
by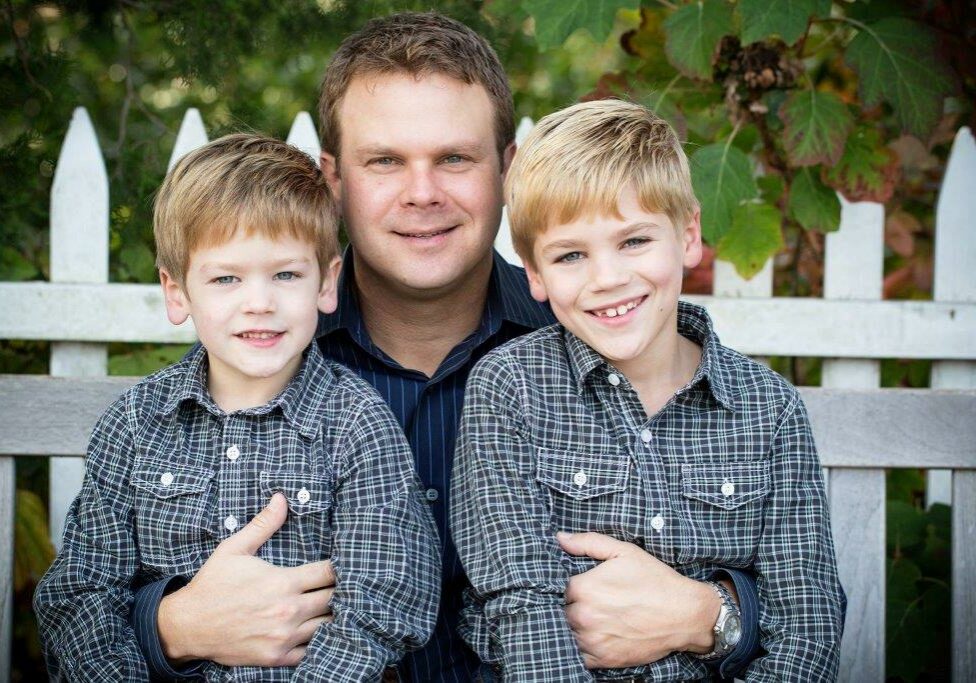 AJ Janosko should have turned 50 this year. He didn't. Instead of celebrating his birthday, his family is preparing to celebrate his life, as well as the lives he saved and that were healed, thanks to his decision to be a donor.
On Sept. 21, the Donate Life Virginia #35 car will bear AJ's name when Joey Gase races it in the NASCAR XFINITY Series race in Richmond.
His brother, BJ, said it's a great memorial for a man who was a fantastic athlete and sports fan.
"He always made you feel so good"
"AJ was a really great guy," said his brother, BJ. "He had a really incredible gift of making people feel special."
"AJ was charismatic – people were drawn to his personality. He was never shy with a compliment. He instinctively knew the right thing to say or do in any situation. And he could make you laugh – usually about something completely silly," BJ added.
After AJ died from a fall in 2014, friends, coworkers and neighbors came to BJ with stories about his big brother.
A neighbor told him that in the middle of the stress and frustration of Thanksgiving shopping, she saw AJ across the store and got out of line so she could just happen to bump into him "to get a pick-me-up because he always made me feel so good."
The vice president of AJ's company told BJ that when they cleaned out his desk, they found a spreadsheet listing his coworkers' birthdays, children, pets and other details.
"He always put other people first."
"It explained how he always had a Starbucks gift card for everyone on their birthday," BJ said. "They thought he just knew but he actually tracked all that stuff."
That was the kind of guy he was, BJ said. "He always put other people first."
Most of all though, AJ loved spending time with his family. He woke up early on Saturday mornings to make pancakes and bacon for his wife, Tracy and their two sons, Andrew and Jackson. "AJ really enjoyed their family road trips and singing in the car at the top of their lungs," BJ recalled.
Four years after AJ's death, BJ still chokes up talking about his brother – something he does frequently as an advocate for organ donation.
The fall
AJ died on vacation. He had driven from their home in Virginia to Florida with his wife, Tracy, Andrew, and Jackson, to stay in a vacation house with family and friends.
Late in the night, the kids had been sent up to bed and AJ was getting settled for the night. Their friend heard a boom and went running. AJ had fallen down the stairs and was unresponsive.
He was airlifted to a hospital in Panama City and at 3 a.m. on June 22, 2014, Tracy called BJ to tell him AJ was going in for emergency brain surgery to relieve increasing pressure and stop the bleeding.
"I got this hot, itchy feeling with tears and a lump in my throat. I couldn't speak."
A few hours later, BJ was by his brother's side with Tracy.
"They said there was nothing more they could do and my brother had 12-18 hours to live," he said.
It was a shock.
"I got this hot, itchy feeling with tears and a lump in my throat. It was fire," BJ said. "I couldn't speak."
But after a few moments, it went away and I asked Tracy 'has anyone talked to you about organ donation yet?' She let out a cry and then immediately said 'that's what AJ would have wanted.'"
The decision was made and now it was just down to the waiting.
Painful truth
"I was in the room when the doctors performed the brain death exams." BJ watched and said his heart "wanted a miracle," but that he knew the truth – it was over. The miracle he was getting was not for his brother.
The miracle was for the five other people who received AJ's organs – and the 77 others who received his tissue.
BJ said they've heard from one of the recipients – a young man who wrote to say he received both of AJ's lungs and was grateful.
BJ said that when he speaks as an organ donor advocate, recipients often tell him they don't know what to say to the families of donors or whether they should even try to contact them.
"I tell them that it's a personal decision for them whether to write or not," BJ said. "But for me, I want to hear from them."
The aftermath
Four years after AJ's death, there isn't a day that goes by where AJ's family doesn't think about him.
"Losing AJ brought all of us closer and we see and talk to each other more often now," said BJ. AJ's sons are in middle school, Andrew in 8th grade and Jackson in 6th grade. Tracy recently achieved a lifelong dream of getting her real estate license.
AJ's family is planning to get together again soon because NASCAR driver Joey Gase will honor AJ on the side of his #35 car when he races at the Richmond Raceway on Sept. 21.
Gase's mother died of a brain aneurysm when he was only 18 and he made the decision to donate her organs. In her honor, he often honors a specific organ donor or recipient by posting their names on his race car to raise awareness for the issue.
"I was really excited about it from day 1," BJ said. "AJ loved competition and sports. He loved and appreciated all competition."
"His example inspired so many others to become organ donors."
For AJ's family, the event will be another commemoration of the man who was a husband, father, son, brother and friend. "Knowing how much he touched others who never even met him is a comfort," BJ said.
"The man who always wanted to brighten other's lives continues to do so today," he said. "His example inspired so many others to become organ donors."
Organ, eye and tissue donation saves and heals countless lives. Sign up to become a donor today.