A Driving Force Remembered: Joey Gase takes Meredith Haga Fox's message to fans
Published on October 15, 2018
by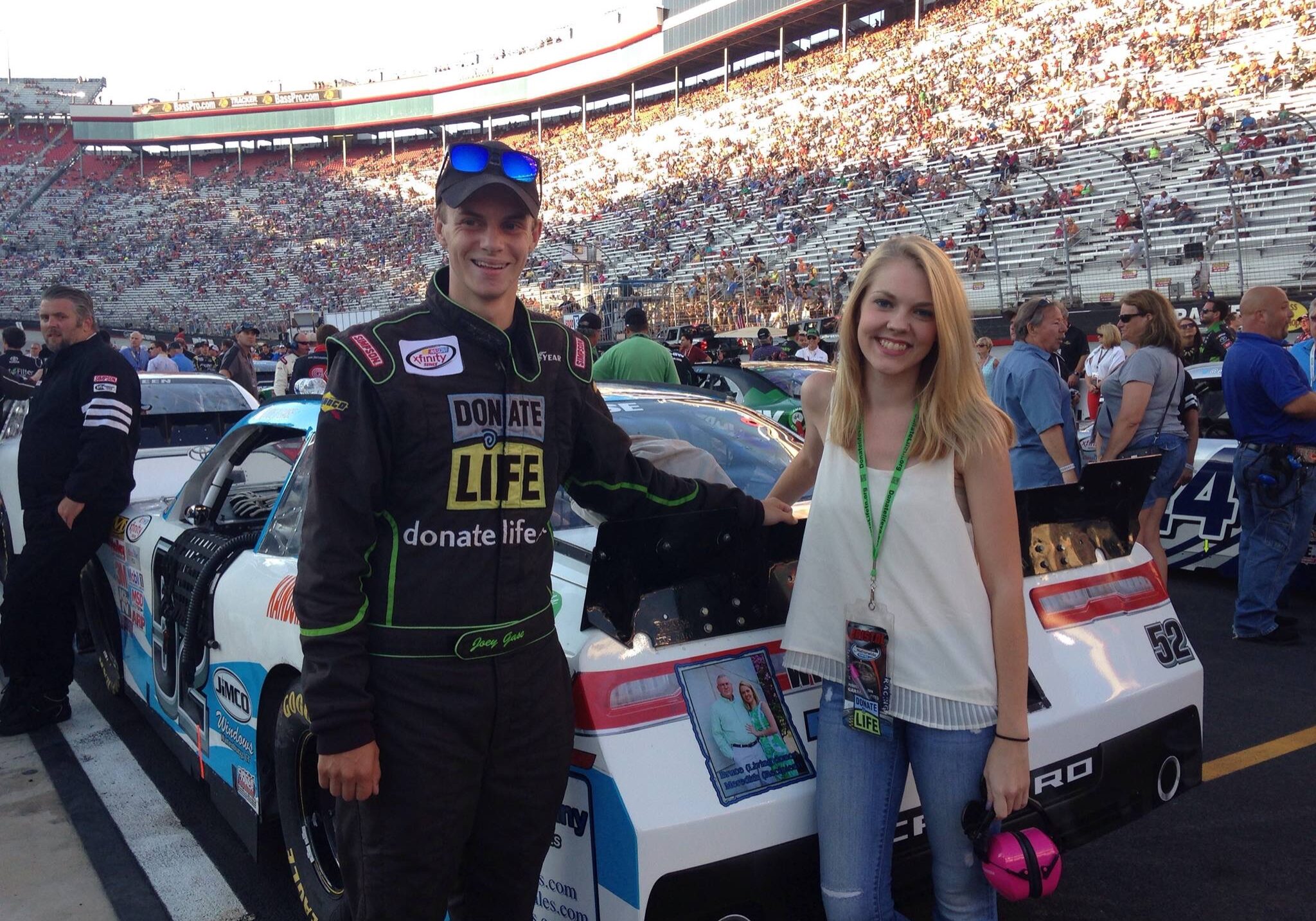 Meredith Haga Fox was not shy about encouraging others to become organ donors—quite the opposite, she was passionate and determined. "She didn't take 'no' very well," remembers NASCAR driver Joey Gase, who became friends with Meredith during his work with Donate Life Virginia.
If anyone knew the power of direct statements, it was Meredith. A 2015 photo of her at her commencement from Sweet Briar College went viral—a radiant young woman at the start of her adult life with "I AM HERE BECAUSE OF AN ORGAN DONOR" stated simply on her mortarboard. It reached two million people.
And to her, that statement on her cap was just a simple fact. Her stepfather, Bruce Blessing, donated a kidney to Meredith, after an autoimmune disease attacked her own body and nearly killed her in 2012. It was only because of his gift that she was able to re-enroll for her previously interrupted freshman year and graduate with a determination to raise awareness about the life-altering impact of organ, eye and tissue donation.
"Meredith's transplant gave our family an opportunity to celebrate so many milestones," Bruce said. "We got to celebrate her first day of college, family days at Sweetbriar College, choir concerts and her graduation."
The most impactful gesture, simply done
Bruce had been simple as well about his desire to give—Meredith recounted a story where she attempted to give him an "out" at the last minute. Her stepfather simply put his hands on his hips and said, "Let's get this over with. I have to get back to work."
"Meredith's transplant gave our family an opportunity to celebrate so many milestones,"
As her life finally regained its footing, she found herself cherishing the little things. "I got a second chance to do things I took for granted—I got to take a shower, I got to go to the grocery store, I got to clean my house. But, most importantly, I was granted a second chance to be kind to people, to be an advocate, and to love. I saw a love that only comes with donation."
Meredith knew that a life in medicine wasn't exactly what the doctor ordered for someone with a life-threatening disease, but her calling was too crystal clear to ignore. "I would rather live a shorter life doing what I love and helping people, than a longer one in complacency," she said in a 2017 interview.
After a post-graduation gold medal at the Transplant Games of America, Meredith made a professional beeline for organ donation advocacy, accepting a job at Tennessee Donor Services and later, LifeNet Health in Richmond, Virginia. Early in her career, she met Joey, who had become an advocate himself after his mother's sudden death would go on to change or save 66 lives.
The first thing Joey noticed about Meredith was her energy. "When we'd have booths at the track she'd be the first one out there getting people to register," he said. She'd made an impact on him with her passionate, driven approach to help potential donors understand just how much of a difference you can make. Look at me, she seemed to say as she exuded energy. I am here, and I very nearly wasn't.
"Meredith loved cheering Joey Gase at Bristol Motor Speedway in the Donate Life Car," Bruce said. "She was dedicated every single day to share her journey of organ donation and how it saved her life."
Joey enjoyed watching her direct but caring relationship with her new husband, Tanner, and the rest of her family, particularly her stepdad and donor, Bruce. She was the kind of person who wouldn't let you get away with anything, he remembered, but she did it with love. "It was cool to see that and how funny they were, and caring they were for each other at the same time."
Keeping the passion alive
Ultimately, Meredith developed complications from pneumonia due to being immunosuppressed. She passed away at age 25 in July of 2018, but not before she'd touched the hearts and minds of millions.
"Six years doesn't sound like a long time, but Meredith packed a lifetime into those short years."
"Six years doesn't sound like a long time, but Meredith packed a lifetime into those short years. Had Meredith not had the transplant, she would have never met Tanner and we wouldn't have been able to welcome him to our family. It was a dream come true for Meredith to find the love of her life, who stood by her every single day, along with her mom and I, to the tragic end."
Almost immediately after learning of Meredith's death, Joey honored his friend in the best way he knew how. After his mother died from a brain aneurysm in 2011, he made the on-the-spot decision as her next of kin to donate her organs. The suddenness of it all had been overwhelming, and Joey hadn't even remembered to bring her wallet, but he just had a feeling it's the way she would have wanted it. Since her death, he's emblazoned his car with her photo, often next to the photo of another recipient or donor.
Where other drivers may have sponsors with flashy logos, Joey wants to start conversations. "Just putting that picture on the car does so many things," he said in a 2017 interview. "People ask questions, they want to talk to you about who the person is and why you've got their picture. Not everyone knows about the Donate Life logo, but seeing someone's picture makes them pay attention."
He believes that the main reason people aren't signed up to become organ and tissue donors is not that they have serious arguments against it (although he does admit having to dispel some closely held myths from time to time), but that they just haven't taken the time to sign up. And what reminds them to do so? A picture of an ordinary person who was able to make a difference, or one of an ordinary person whose life was that difference.
Meredith's face, alongside her stepfather's, was the first time that Joey had included both a living donor and a recipient. But he wanted to help her do what she did best, even though she couldn't do it anymore.
"I honestly don't know anyone more passionate about it than she was, she always left her mark on people," said Joey, who helped her make that mark on a huge crowd that day in her hometown of Bristol, Tennessee.
"Meredith's life and legacy will live on, " Bruce said.  "She opened hearts and minds through her mission and never-ending words 'sign up, save lives.' She would have loved knowing that her organs were donated for research that could help prevent the disease that caused her to need a kidney transplant and the illnesses that attacked her body in the end," Bruce said.
"She opened hearts and minds through her mission and never-ending words 'sign up, save lives.'"
Joey will give Meredith another night at the track on October 28 in Martinsville Speedway near her adopted home in Richmond. He knows that she can't make him laugh at his races anymore, but his simple act of keeping her image front and foremost in his fans' minds helps get a message—one that was so close to them both—out into the world.
Organ, eye and tissue donation saves and heals countless lives. Sign up to become a donor today.