Love Match: Wife donates kidney to husband
Published on February 12, 2021
by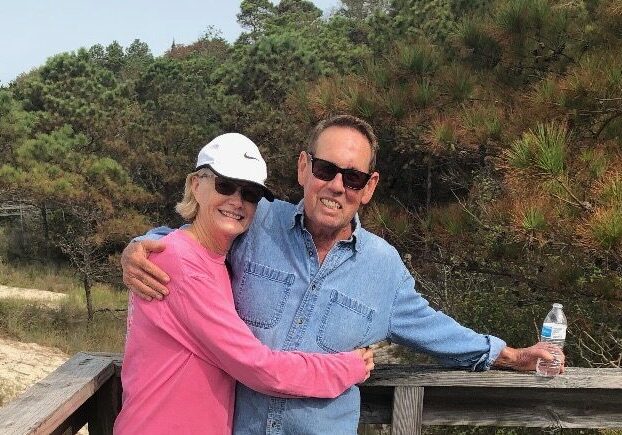 Pat and Jody Cadwell built a life, family, and business together. Married now for 35 years, they never imagined they would also share in the experience of kidney transplantation. 

Jody was diagnosed with polycystic kidney disease (PKD) when he was 40 years old.  PKD causes numerous fluid-filled cysts to grow in the kidneys. Too many cysts can damage the kidneys and lead to kidney failure. 

The diagnosis was not a total surprise since it is an inherited disorder and his mother died from PKD. Over the years, his diagnosis would cross his mind, but "I would immediately boot it out of my mind," said Jody.

But when he was 56 years old, the symptoms of the disease — anemia, fatigue, easy bruising, foggy mind — were becoming overwhelming. Progressively getting sick, Jody knew he could no longer avoid doctors.  

Jody saw his doctor who immediately sent him to the emergency room after reviewing his blood lab results.
"It was life or death," Jody recalls.

He was hooked up to a dialysis machine right away in the hospital and would now require dialysis three times a week. Jody began the process of getting listed for a kidney transplant in March 2013.

Meanwhile, his wife Pat decided to get screened for living donation in hopes of donating to Jody. "There was nothing to think about. Let's just do it," she recalls.

When the social worker asked her why she wanted to donate her kidney to Pat, she said, "Because I love him!" 
"You can live with one kidney. So many people need a transplant. You don't need both kidneys," Pat adds.

One day while driving together in the car, they received a call from the hospital to learn Pat was a match for Jody.  They both began crying.  

"Is this really true? Are you sure that's what she said," they both remember.  Pulled over at a rest area, they called her back to make sure it was real. 

And it was real.  In October 2013, Pat donated her kidney to Jody, and it was a success. As soon as Jody opened his eyes, he felt better. "He felt good the minute my kidney was hooked up to him," Pat shares.

Both were discharged from the hospital two days later. "He was a new person just like that," said Pat.

Today, both are doing well and they even have a new title to share: grandparents.

Living donation saves lives. Learn more about living donation.