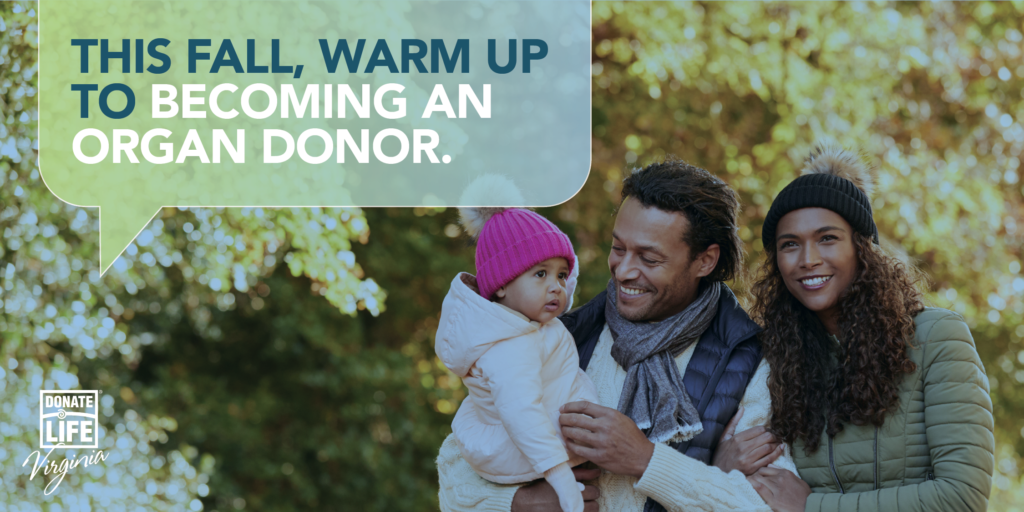 With cooler temps and beautiful foliage, autumn in Virginia is one of our favorite seasons. It's also a great time to become an organ, eye and tissue donor. Here are five compelling reasons why.
There's an urgent need for organ donors right now
Right now, more than 2,400 Virginians are waiting for a life-saving transplant. Across the country, another person is added to a waitlist every 10 minutes. And 20 people die every day because the organ they need does not come in time.
It's a great way to contribute to your community
Whether it's Halloween, a big football game or a fall festival, autumn is full of events that unite our communities. What's another act that brings people together? Organ donation! About 95% of Americans support it. Which means everyone should check that little box and make a BIG difference in their community.
It's a no-cost gift that keeps on giving
With the holidays coming up, you need every dime you can spare. Fortunately, it doesn't cost anything to register to become an organ donor. Even better? You can sign up anytime online at DonateLifeVirginia.org and it only takes about 30 seconds.
A new school year, and a whole new life
Fall is an exciting time for students. But for those students who have received an organ transplant, it's even more poignant. Because they're getting a chance to continue their education as well as their lives. Those second chances can't happen without organ donors, which makes autumn the perfect time to register.
A season of rebirth
Our lives are often compared to the seasons. Because just like nature, we go through a cycle of birth to death. The same is true for organ donation. One organ donor can save 8 lives and heal 75 others through the gift of donation.

So savor those last few sips of pumpkin spice coffee then visit our sign-up page and register to be an organ, eye, and tissue donor today!