Dirt Kart Racer's Victory Flag was the Help He Gave to Others
Published on September 11, 2017
by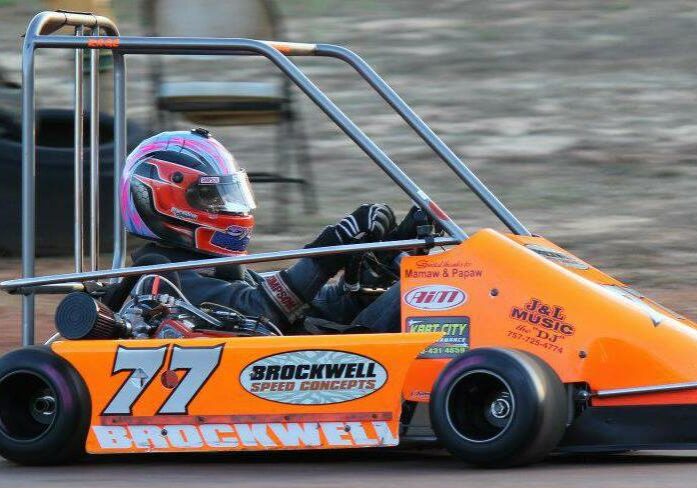 Dylan Brockwell lived the charmed life of an adventurous spirit. On a daily basis he indulged his consuming passion for racing, hunting, fishing, surfing, and archery —Dylan's mother, Jamie, would just bite her tongue at the anxiety his "perpetual motion" caused her and focus on how proud she was of all he'd accomplished.
At 22, Dylan had made a name for himself in dirt karting, iRacing, and more. He was even a sought-after technician at Coastal RV, where he worked with such dedication, attention to detail and cheerfulness that he was often asked for by name. He'd discovered the love of teaching, showing the ropes to new enthusiasts to any of his favorite hobbies, becoming a mentor without ever saying that word.
"It didn't matter if they were 8 or 80," says Dylan's father, Kenny. "Whoever he was around, Dylan talked to them like a person."
Jamie, Kenny, and his sister, Joely, encouraged Dylan to apply to Virginia Tech. After two years at Tidewater Community College studying mechanical engineering, he had been accepted to VT College of Engineering to join his sister in Blacksburg. Racing professionally was the goal for Dylan, but he accepted the idea that he could use a backup plan. The Brockwells were happy and relaxed about the path that seemed to be laid out for Dylan. They knew he was a hard worker with a big heart, driven to succeed, and nothing seemed to stop him.
It was an utter shock, then, when Dylan slipped into a coma during a wisdom teeth removal procedure. A line error switched the oxygen and nitrous oxide, and Dylan was given nitrous instead of oxygen prior to his procedure. By the time the error had been noticed, he'd been without oxygen for far too long, and he had asphyxiated on medical gas.
Eight days and one hospital transfer into his coma, Dylan's young, healthy body had almost fully recovered from the trauma caused by lack of oxygen. Heart function soared and other organs were working properly, but his brain scans were getting worse.
A much-loved, healthy community figure gives so that others might have the same opportunities
Dylan Brockwell was declared brain dead on March 3, 2016, with his family by his side. Jamie, a cardiac surgery intensive care nurse, had handled Lifenet calls before, so she knew what the situation was as soon as she heard the nurses on the phone. "We came together as a family then," remembers Jamie. Kenny agrees, "We made that decision together."
Dylan's organs, eyes, and tissue were optimal for donation—healthy and recovered from his trauma. They know that a young boy received one of Dylan's kidneys, one man received his heart and a kidney, a woman received his liver and one man received both of his lungs. In addition, there were 230 gifts of tissue that improved the quality of life for many others. And while they would give anything to have Dylan back, they treasure the idea of Dylan's physical self being out there, living on in others.
Achieving the dream: a NASCAR race for Dylan
But perhaps most meaningful of all…this month, Dylan Brockwell's name and face loomed large at Richmond International Raceway, honored by NASCAR driver Joey Gase for the young man's love of racing as well as his generous gifts to keep other people healthy. "I'm excited, even though he's not here," says Jamie. "Just to see Dylan up on the track. That was his dream. But it'll be hard for me. It is anytime I'm around a track. There's so much Dylan there. The noises and smells, the sights and sounds—they're all Dylan."
"There's so much Dylan there. The noises and smells, the sights and sounds—they're all Dylan."
"It always means a lot to be able to honor donors and their families at the track, but this weekend hits home even more than normal," says Gase. "Dylan had a huge passion for the sport of NASCAR and was a very talented racer who had won multiple track championships. I wish I could have gotten to meet Dylan, but I am honored to be able to have him on the car and his family in attendance this weekend."
Dylan's girlfriend, Liz, joined Jamie, Kenny, and Joely at the track. "Other parents used to give us the greatest compliment of all," remembers Jamie. "Which is that they wanted their kids to grow up to be just like Dylan."