Richmond man's holiday tradition celebrates a second chance at life
Published on November 13, 2017
by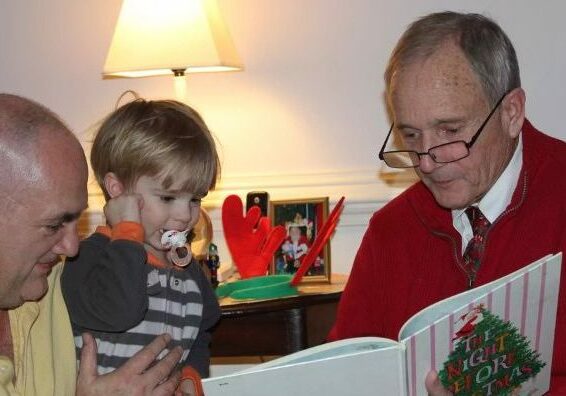 For Jim Price, the holiday traditions start with a brisk 8K on a cold November morning each year.
"Not long after my liver transplant, I was up and walking again and I got to talking big and bragging and I said 'I'm going to get good enough where I can do the 8K in the Richmond Marathon,'" he said. "My son said 'well if you make it, I'll do it with you."
Twelve weeks after he got a new liver, Jim did indeed show up at the VCU Health 8K on Richmond Marathon day in November 2013.
"If you make it, I'll do it with you."
The next year, he did it again. And then again the year after that. And the year after that and the year after that.
"This is my fifth one," he said recently. "I'd love to do it every year til my grandson and granddaughter can do it with me."
Jim's 8K helps to keep him motivated to stay in shape – a critical step to staying healthy after his 2013 liver transplant. It also kicks off the holiday season for the Price family.
"It always takes place a week or two before Thanksgiving so once this is done, we really start into the holiday season," he said.
Getting there
At the age of 62, Jim is making the most of his second chance. Six years ago, he wasn't thinking about 8Ks, or Thanksgiving, or Christmas. He was just trying to stay alive.
For about 10 years, Jim had been in a treatment program for hepatitis C, which causes liver failure. So far, he had been managing without a transplant, although he said he was "kind of aware" that at some point in the future, one might be needed.
"Things went downhill after that."
That point came in 2012, when Jim had his gall bladder removed.
"Things went downhill after that," he said.
Before the end of the year, he had been diagnosed with liver cancer. A tumor was removed from his liver in January 2013 and another one was removed three months later.
It wasn't enough — Jim needed a new liver and quickly.
"I probably would have been around for the holidays in 2013 but I definitely wouldn't have made it to the holidays in 2014," he said.
Jim went on the transplant list. But people with cancer aren't always good candidates for transplants so Jim and his family held their breath, waiting for his MRI in July to determine whether there were more tumors in his liver. If a tumor showed up that exceeded the maximum size criteria, he'd be taken off the transplant list, treated for the tumor, and then he'd have to wait until he was healthy enough to be put back on the list to wait again, all the while hoping another tumor didn't show up in the next MRI three months later.
The July MRI had good results – no tumors. Jim was cleared for a transplant and in August, the call came.
Jim got a new liver at the end of August. During his recovery, the doctor told him that when they took his liver out, they saw what the MRI a month earlier hadn't picked up – there was a tumor in his liver.
"I was lucky," he said. "There was a really small window in that three months between MRIs. It probably would have showed up on the next MRI but I got the transplant in that window before they saw it."
Home for the holidays
And just like that, Jim was on the road to recovery. He went back to work in his job as a salesman for a local lumber company. And just 12 weeks after his transplant, he and his son did their first 8K together.
A couple weeks later, he celebrated Thanksgiving with his wife, son and grandson, Tate.
"My grandson turned 1 about the same time I got my liver transplant," Jim said. "I don't remember much about his first year because I was so sick. But after the transplant, everything changed."
Jim was home for Christmas that year – as he has been every year since.
"We decorate the house well and we eat well. We go to church on Christmas Eve and we just enjoy being together," he said. "It makes Christmas a little extra special having little ones around."
"Little ones" plural because Tate's sister Parker was born 21 months ago.
"It just gets emotional when I look back and realize I might not have been here when she was born," he said, voice cracking.
This Christmas will be extra special, Jim said, because his daughter is coming in from Wisconsin with his two older grandchildren, Matt and Bobby.
But he's decided against a real tree.
"I guess I concede to being an old man because I don't want to go out and buy a real tree," he said, before confessing that it isn't the effort — it's the floors.
"I got to be around for my granddaughter to be born. I get to celebrate the holidays with my family. That's everything."
"My wife and I just redid the floors in the house after 30-some years of kids running all over them," he said. "We don't want to drag a real tree across it and get water all over the new floors. So we're getting a fake tree for the first time."
As he prepares for his fifth Christmas with his new liver, Jim said he often thinks about the organ donor who gave him a chance to be here.
"I wouldn't be here," he said. "But I can still work and now I do 8Ks and I really would like to continue to do that until my grandchildren can do it with me. I got to be around for my granddaughter to be born. I get to celebrate the holidays with my family. That's everything."
These holiday memories were made possible because someone said YES to organ donation. Gift the gift of life. Say YES and sign up to become a donor today.