A recovery nurse in recovery
Published on April 16, 2018
by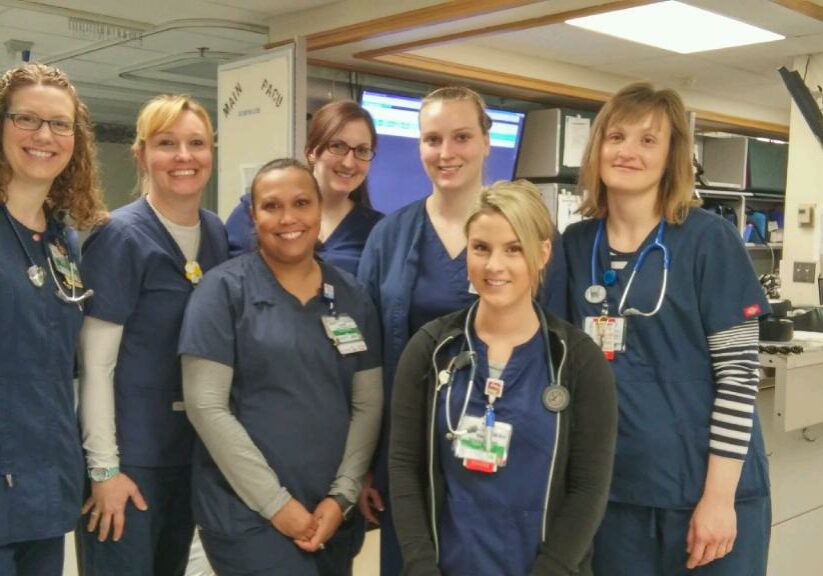 As a post-anesthesia nurse, Laure Jean-Richard has helped her fair share of transplant recipients recover. And for years, she knew that some day, she'd be on the table herself. Laure was diagnosed with lupus at age 26, and her medical experience made her fully aware of how the autoimmune disease progressed. She prepared herself for a grueling journey—at some point, she knew, one or more of her organs would betray her.
But she thought she'd have a lot more time. Laure's kidneys were in such a state of decline after only three years that her doctor recommended she go ahead and get on a transplant list. It wasn't time for dialysis yet, he said, but it could eventually be necessary since it could take anywhere from three to seven years to find a kidney matching her blood type. By then, he said, she might be able to bypass the whole dialysis process and go straight to a healthy organ.
It wasn't so. Laure hit the third stage of renal disease, and she hit it quickly. Mere months later she was hooked up to a dialysis machine for seven hours at night and 30 minutes on her lunch break. For the average person, the situation would be grueling. For a nurse working 12-hour shifts, dialysis basically precludes any sort of social life, recreation or even a good night's sleep. (Being hooked up to a 15-foot cord for several hours pretty much makes you a prisoner to one spot for the duration of your treatment, and it doesn't exactly lend itself to comfortable sleeping positions.)
Being grounded, staying grounded
Laure got into medicine because of a lifelong fascination, but as a pre-med student, she realized what she truly wanted was to become a nurse. "I like taking care of patients, and I like learning
medicine too, so I get the best of both worlds this way," she comments. The recovery process attracted her the most—watching patients improve after the surgeons do what often seems the impossible. She likes honing a warm bedside manner, keeping a hands-on approach, and, best of all, learning about people. The perspectives of the patients she had seen go through so much were comforting, she found, and helped her keep her own outlook grounded.
As her kidneys declined further, she would need that grounded outlook more and more. Another doctor had advised her to put herself on two waiting lists, which is encouraged if you can travel to another geographical region in a short time. Laure found herself on the list at INOVA in Fairfax, Virginia (where she works) and also at VCU, her alma mater.
While she waited, her friends and family did their best to speed up the process. In four years, four different people she knew attempted to donate one of their kidneys to Laure. One by one, they were eliminated as possible matches. It wasn't easy to have hopes raised, just to be disappointed, but the idea that so many people were willing—her mother, her father, even her friend's husband—helped her stay positive.
Lupus isn't an easy disease to work through, even without the added complication of having to work dialysis into your schedule. Laure suffered chronic fatigue, anemia (which makes you even more tired), and joint pain, not to mention the loneliness that comes from going through something your friends and peers aren't. But on the very last day of March in 2018, it finally changed.
The phone rang at 2am, and Laure and her husband almost didn't answer it. In her sleepiness, she assumed it was a friend calling too late, but on the second try, she snapped to attention. It was VCU Health calling to say that a kidney had been donated, and it was her match.
Finally, a life back in action
By that evening, Laure was the one receiving the attentions of a recovery nurse. Her mother, who had booked a flight from Switzerland as soon as she heard the news, would come to help her at home, where she'd need to avoid lifting, carrying, and bending over while her body healed.
Laure knew all this—it was her profession after all. What she wasn't prepared for was the amount of emotional processing she would have to do. Her kidney came from a 16-year-old boy who died from a seizure. That's all she knew—and if his family decides not to respond to the letter she'll send them after six months, she'll never know more. It's something she knows she has to accept, and that her gratitude can just exist on its own, just as powerfully as if the donor's family had heard it.
For now, she's trying not to be restless. A self-proclaimed workaholic, Laure's anxious to get back to helping people and not being the one who's helped all the time. She's able to sleep on her stomach—and sleep peacefully—for the first time in years. Laure's bloodwork is already so good that she's down to one follow-up drive to Richmond per week already, just a couple weeks after her transplant. Soon, she'll only have to go once every two weeks. And soon after that, life might just be normal again.
Once she's fully recovered from surgery, she can rejuvenate her social life. Her family has teased her for being stubborn, but she credits it with helping her get through it. Stubbornness kept her believing that one day things would get better. Resolve, she thinks, will help her recovery. Determination will get her back to work sooner. And hope, she knows, was something she refused to ignore.
More than 2,400 Virginians are waiting for a life-saving transplant right now. In the event of your death, you could be someone's rainbow. Sign up to become an organ donor today.