Waiting on a Rainbow: Virginia Heart Recipients Inspire National Campaign
Published on April 5, 2018
by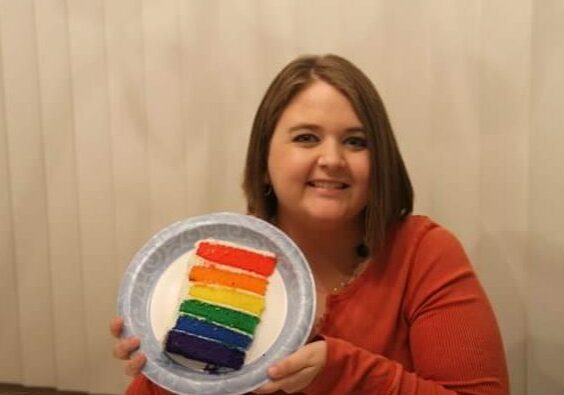 The rainbow has been a symbol of hope for organ and tissue donation recipients at Children's Hospital of The King's Daughters (CHKD) for decades. Perhaps it's because of a rainbow's startling, out-of-the-blue quality. Perhaps it's because the sight of one means the worst is over. Or perhaps it's because a rainbow is such an indisputable thing of beauty that can shine above even the least beautiful spots.
Donate Life Virginia president Debbie Anderson, and transplant coordinator at CHKD, isn't entirely sure. But she does know for certain that when she walked across the CHKD parking lot one August evening on her way home from a bittersweet, yet typical day making the rounds of waiting patients and their families, she looked up at the sky and saw colors stretching across the sky, directly over the hospital.
A legend is born
It was 1994, and two of Debbie's patients had celebrated milestone birthdays in the hospital, waiting for the call that would change everything. Elizabeth Henderson was only 1 year old when she received her new heart, but Tina Buck, who had just turned 16, was starting to lose hope.
Debbie knew that Tina was convinced that a rainbow would appear when a transplant was imminent. So, when Debbie spotted the arc over the hospital that summer evening, she immediately picked up the phone.
"The rainbow became a tangible, illogical, and magical symbol for all of us."
"We all are well aware of the scientific and Biblical reasons for the rainbow," Debbie recalled. "But, perhaps there was something from a whimsical childhood that made this particular rainbow provide me with the encouragement to hope for my patients, that on this night, a heart would be found to allow their lives to begin again."
Debbie described to Tina what she had seen and how it had filled her with hope.
And sure enough, a donor heart came that very night.
A bright spot of hope in the sky
"For families that wait, there are no words to comfort them," Debbie says. "There are no guarantees. We hang on to numbers, stable vital signs and intravenous drips that infuse at life-saving proportion. There is an urgency and an impatience. Hope is a thing that evades us as we cling to the moment by moment ticking of the clock, realizing that there may not be an offer that comes in time."
Too often, that offer doesn't come. For hospital staff, the haunted look of families who don't know whether they'll have to say goodbye to a child is the most difficult part of their job. But Tina, with conviction in her new heart, enthusiastically spread the story of the rainbow, and soon enough, CHKD patients and families were starting to point them out everywhere. Carefully documenting each brilliant spotting gave families purpose and allowed them to hope, while appreciating the significance of another family's gift and another family's grief.
"The rainbow became a tangible, illogical, and magical symbol for all of us," Debbie remembers. Kids would draw it everywhere, decorating their pillows, the walls, even their IV poles. Rainbows were a phenomenon everyone could get behind.
Rainbow fever
When Stephanie Mutter entered the hospital in 1995, she also caught rainbow fever. An active, cheerful girl, she saw her new heart as just a milestone she had to reach before she could get back to dancing and softball. Her family bonded right away with the family of Amanda Mynatt, who was only 2 years old, and took solace in each other's positive thoughts. Despite nearly a decade of difference in age, Stephanie felt a kinship to Amanda, who had already been waiting for some time.
Amanda received a new heart first, and Stephanie said the best kind of goodbye, the one where a patient is feeling so much better that they're able to go home and start the rest of their life.
Weeks later, in November 1995, Stephanie received her heart transplant.
"Everyone asked who saw Stephanie's rainbow. But this time, no one answered," Debbie said. "Some weeks later, Stephanie's mother and Amanda's mother were talking about their daughters, their medications, check-ups and all the things mothers worry about when on this journey of transplantation. It was then that Amanda's mother asked Stephanie's mother what day and time her transplant occurred. It was on the day and time of Stephanie's transplant, Amanda, now 3, had been at home coloring. When her mother asked what she was drawing, she proudly showed her mother, 'It's a rainbow.' Amanda gave Stephanie her rainbow."
Never one to stay cooped up a minute longer than she had to, she got straight to work living her life. Stephanie went on to high school, meet the man who would become her husband, graduate from Christopher Newport University, travel the world with her sister Amber, and adopt a beautiful little girl.
"You're my rainbow"
A talented writer with a gift for expressing the soul, Stephanie spent much of her considerable energy advocating for organ and tissue donation. And she never let a transplant anniversary date go by without reaching out on social media into the void—hoping that maybe she might reach her donor family (who had never responded for her contact requests). Each year, she'd thank the donor, the family, and share just how fully she was living her life.
"I read once that it takes rain and sunshine to make a rainbow. How appropriate. One this day in 1995, it didn't just rain– it poured– on a very selfless family.
The skies turned grey and the tears fell as the family wept for the child they had just lost. At the very same, terrible moment, the skies opened up and the sun peeked through. The rainbow came, and while my family grieved for years, we had the sunshine we'd only hoped for.
You, my sweet angel, this is why you are my rainbow. You tie me together with another family somewhere nearby that I've never even met." – Stephanie Green
Doctors had told Stephanie's mother Gwen not to expect the new heart to last longer than eight years.
It lasted 20.
On that 20th anniversary, Stephanie made a video of photos that would never have existed had it not been for her donor. As Gwen says, Stephanie didn't live a partial life, she lived a full one.
"I have lived," said Stephanie in the video. "I have lived because of you."
A legend lives on
Now in her 20s, Amanda is a medical assistant living in Ohio. Tina, who also had a kidney transplant after receiving her heart, lives in Chesapeake and remains in contact with her donor family. Both remain avid advocates for donation and transplantation.
"I have lived because of you."
Elizabeth grew up and went on to college before she passed away. She was also a dancer, gifted writer and honor student.
Stephanie's second transplant seemed to go smoothly, at first. But, an infection developed and she died only 8 weeks later on Memorial Day 2016.
"Goodbyes, integral to life, are never easy," explains Debbie. "The harder thing is to find a way to carry hope after the goodbye. My patients inspire me to search for that, those that have gone before me and those that are embracing today with all its goodness. I owe each of them to do just that."
CHKD's rainbow legend lives on and this year, it will go on to inspire thousands more as the theme for National Donate Life Month. In honor of all of those on the waiting list, Donate Life Virginia distributed 10,000 rainbow window clings to hospitals and transplant centers across the Commonwealth as a symbol of hope for those still waiting for their rainbow.
More than 2,400 Virginians are waiting for a life-saving transplant right now. In the event of your death, you could be someone's rainbow. Sign up to become an organ donor today.